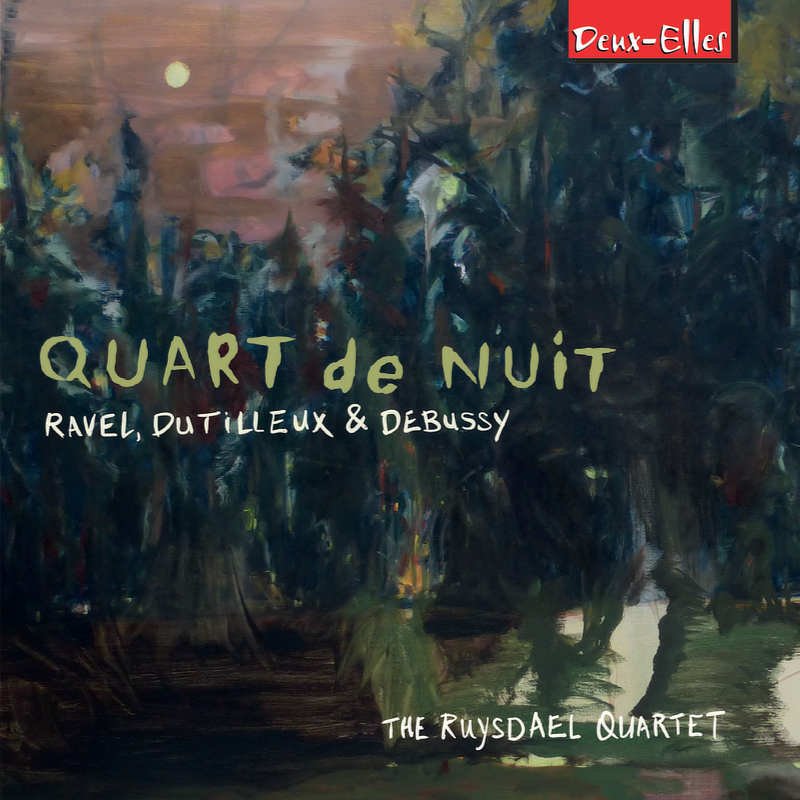 DXL 1185, Quart de Nuit: Ravel, Dutilleux, and Debussy
These are, of course, strange times for everyone. Within the arts, as within many fields, it has meant two things: an opportunity to slow down and be present in life in a different way, and at the same time, a stimulus to intense creativity and innovation.
Today we're very proud to release a disc by the Amsterdam-based Ruysdael Quartet, taken from a live performance at their own annual ZOOM! Festival in Velp, The Netherlands. When they first came to us with this project, we could little have guessed how precious live music would become over the next several months. The energy of a live concert permeates this recording – you can practically hear the audience holding its breath as the first phrase of the Ravel Quartet lifts off the ground.
The pandemic may have slowed them down a bit, but it certainly hasn't brought them to a halt. When lockdown was at its most intense, they still managed to collaborate as a quartet, recording their parts separately and working with film director Tim Lorraine to make this mesmerising music video of the last movement of Terry Riley's epic quartet, Salome Dances for Peace:
By the time of the ZOOM! Festival, the lockdown had lifted enough in The Netherlands that they were able to come together onstage – for a socially distanced audience – and to play that celebrated monument to healing, Beethoven's Heiliger Dankgesang (16:12 in the video):
We look forward to the time when we can experience that special energy of many people gathered together, all focused intensely on the music. For now, we can hear that energy in the Ruysdael Quartet's beautiful new album, available for purchase here.
Wishing healing and creativity to all our listeners!